IPCRG 7th Scientific meeting
15 to 16 May 2023, 09:00-15:30
Maritim Hotel, Munich, Germany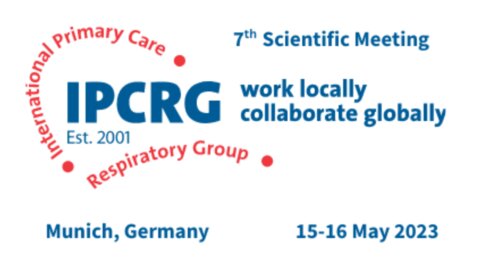 The IPCRG is delighted to announce that the 7th IPCRG Scientific Meeting will be held in Munich, Germany, from 15-16 May 2023 in conjunction with our German Group led by Univ.-Prof. Dr. med. Antonius Schneider. The meeting will be preceded by an opt-in module on coding and analysis as part of a new introductory course in qualitative research, which is part of our drive to build research capacity in primary care.

Registration for the 7th IPCRG Scientific meeting and the IPCRG Qualitative Research School is now open!
You can register to attend the Scientific meeting via the Registration Form – which uses the portal of our new conference provider, Erasmus. Help is available in the portal.
Registration
You have some choices of registration which are all explained on the portal:
1. Do you want to attend just the Scientific Meeting or also the Research School?
2. Do you want to attend the evening dinners: there is one for the Scientific Meeting and also one for the Research School?
Registration costs are below. These include tea/coffee breaks and lunch during the programme hours.
Accommodation
Hotel bookings are linked to the Maritim Hotel in the registration portal.
Submit an abstract!
Abstracts can be submitted via the Abstracts submission portal and you can submit an abstract up to and including the 15th March 2023. You will need to register even if you are submitting an abstract.
We are inviting submissions for our usual 3 categories. These are:
Clinical Research Results
Research Ideas
Service Development & Evaluation
Again, help is available in the portal, and we strongly recommend that you read the abstract guide carefully. There are separate sections of the abstract guide for each category. You will see these clearly in the tabs towards the top of the portal pages.
Please remember that lead authors are required to attend the Scientific meeting in person.
The 6th IPCRG Scientific Meeting was held in Bucharest, Romania in 2019, after which we experienced an enforced break in our usual programme during the pandemic. However, we were able to host the IPCRG World Conference, in partnership with our Irish colleagues, online in 2021 and hosted virtual conference sessions in 2020. Our 11th World Conference was held in Malaga in May 2022. We are extremely pleased to be able to return to our normal schedule for face to face meetings and have committed to holding a Scientific Meeting in the 'odd' years when there is no IPCRG World Conference.
The conference will take place at the Maritim Hotel, Munich, Germany.
Add event to calendar: Apple | Google | Office 365 | Outlook | Outlook.com | Yahoo
Draft programme
The meeting has an opening and closing plenary; the rest is parallel workshops to discuss research abstracts, interspersed with refreshment breaks.
7th Scientific Meeting Summary Information & Timetable of Events
Pre-Conference Meetings

1400-1900hrs Sunday 14 May

Research School: Introduction to Qualitative Research for Primary Care Practical Module (a component of the otherwise online course, prior booking essential)

1400-1800hrs Sunday 14 May

1050-1440hrs Monday 15 May

Registration for 7th Scientific Meeting

From 1800hrs on Sunday 14 May

7th Scientific Meeting Opens

0900hrs on Monday 15 May

Dinner/Networking Event

1900hrs Monday 15 May

7th Scientific Meeting Closes

14.40hrs Tuesday 16 May
Upcoming Conference