10th IPCRG World Conference
6-8 May 2021
Online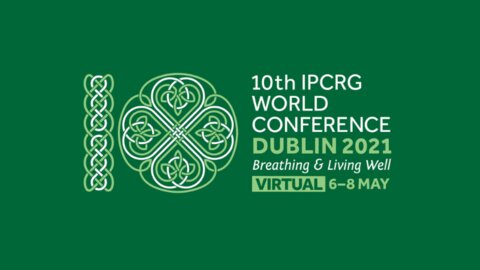 Welcome to the 10th IPCRG World Conference
The 10th IPCRG World Conference is the leading learning and networking opportunity aimed at all healthcare professionals who work in primary care, within family medicine or in the community and have a respiratory interest. The 10th IPCRG World Conference will take place online from 6-8 May 2021. We hope you will join us for our 10th IPCRG World Conference and we look forward to welcoming you and your colleagues.

The 10th IPCRG World Conference will offer a balanced programme on the most important issues affecting primary care today in low, middle- and high-income countries, on the theme of Breathing and Living Well, with relevant hot topics from respiratory research, education and management in primary care.
There are reduced registration fees for delegates from low and lower-middle income countries. We offer the standard delegate fee for nurses, pharmacists and other allied healthcare professionals.
If patients or carers require financial support to attend the 10th IPCRG World Conference and require a scholarship to pay their conference delegate fee, please email Christine Lawson, IPCRG Conference Director at conferencedirector [at] theipcrg [dot] org. Please include your name, address and email along with a brief outline of why you would like to attend the conference.
We are looking forward to welcoming you to enjoy the excellent educational opportunities.
Find out more at www.ipcrg2021.org
Conference Programme
12:00 (Thursday 6 May)

12:00 - 13:15

Opening Plenary - Stream 1 / Session 1: Breathing & Living Well: The Importance of Primary Care

1150 SING STRONG - A Community-based Group Singing Project for People with COPD
1200 Welcome to Dublin: Introduction to the IPCRG Vision: Breathing & Feeling Well through Universal Access to Right Care, Janwillem Kocks, President IPCRG & Derek Forde, PCRSI
1215 Primary Care Response to COVID-19, Mehmet Ungan, WONCA
1240 Global Tobacco Control Success Story: 30 Years of Smoke Free Ireland, Luke Clancy, Ireland
1305 Get Ready for the Conference, A Practical Exercise, Siân Williams, IPCRG

13:15 (Thursday 6 May)

13:15 - 13:35

Break with ePoster & eExhibition Viewing

13:35 (Thursday 6 May)

13:35 - 14:50

Stream 1 / Session 2: The Challenge of Covid-19 - A Clinical Update

What do we know about Post COVID-19? Nisreen Alwan, UK

COVID-19: The Remote Consultation for Chronic Respiratory Patients & Re-organisation of Primary Care, Hilary Pinnock, UK

Early Warning System for the Deteriorating Patient with COVID-19, Brian McKinstry, UK

Panel Discussion

13:35 - 14:50

Stream 2 / Session 2: Improving our Environment & Respiratory Health

Passive Smoking & Respiratory Health, Luke Clancy, Ireland

Managing Seasonality in Practice including Bushfires, Stubble Burning, Thunderstorm Asthma, Amanda Barnard, Australia

Traffic Pollution, Bruce Kirenga, Uganda

Primary Care & Raising Awareness about Air Pollution, Frederik van Gemert, The Netherlands

Panel Discussion

14:50 (Thursday 6 May)

14:50 - 15:10

Break with ePoster & eExhibition Viewing

15:10 (Thursday 6 May)

15:10 - 16:25

Stream 1 / Session 3: Understanding Breathlessness - Assessment & Management in the Post Covid-19 World

The Main Respiratory Problems in Primary Care Post COVID-19: A Conversation, Hanna Sandelowsky, Sweden & Nazim Uzzaman, Bangladesh

Breathing Thinking Functioning Interventions, Anna Spathis, UK

Exercise Assessment & Prescription, Sally Singh, UK

Panel Discussion

15:10 - 16:25

Stream 2 / Session 3: Childhood Asthma: Addressing Problems Across a Large City

Creating a Social Movement for Change in the Care of Children & Young People with Asthma across London, Sara Nelson, UK

Delivering System-wide Strategic Improvement for Children with Asthma in North Central London,

Learning from Asthma Deaths, Mark Levy, UK

From Large Scale Data: Can We Identify Individual Risk Factors? Richard Iles, UK

Panel Discussion

16:25 (Thursday 6 May)

16:25 - 16:45

Break with ePoster & eExhibition Viewing

16:45 (Thursday 6 May)

16:45 - 17:45

18:00 (Thursday 6 May)

18:00 - 19:15

IPCRG DISCUSSION FORUM: A Vision for Partnership Working with Industry with input from AZ, BI, GSK & Novartis

1. Getting Inhaled Medicines & Devices to Low-and-Middle-Income Countries
2. Generation of Respiratory Evidence for Primary Care with Primary Care

19:30 (Thursday 6 May)

19:30 - 20:30

Virtual Networking in the IPCRG Zoom Rooms - Theme: Partnership Working / Meet the Editor

08:00 (Friday 7 May)

08:00 - 09:00

Sponsored Symposium 2: Novartis: Inhalation Therapy in Primary Care Asthma Management: The Future is Now

09:00 (Friday 7 May)

09:00 - 09:15

Break with ePoster & eExhibition Viewing

09:15 (Friday 7 May)

09:15 - 10:30

Plenary Session - Stream 1 / Session 4: IPCRG's Education Programmes: Building Confidence & Competence

0915 Introduction, Amanda Barnard, Australia
0920 The IPCRG Teach the Teacher Programme: An Overview of 8 IPCRG Programmes in 8 Countries, Jaime Correia de Sousa, Portugal
0935 Teach the Teacher: The Malaysian Experience, Ee Ming Khoo, Malaysia
0950 Scaling Up Asthma Right Care using a Social Movement Approach, Mar Martínez, Spain
1005 MOOCs, Medthority & Medscape: IPCRG ventures into Online Teaching & Learning, Juliet McDonnell, UK
1020 Panel Discussion

10:30 (Friday 7 May)

10:30 - 10:50

Break with ePoster & eExhibition Viewing

10:50 (Friday 7 May)

10:50 - 12:05

Stream 1 / Session 5: Management of Respiratory Cases

A Long/Post COVID-19 Case, Maria Buxton, UK

Why was that Patient Coughing: Will you get it Right? Alan Kaplan, Canada

A Complex Case of a Woman with COPD, Ioanna Tsiligianni, Greece

10:50 - 12:05

Stream 2 / Session 5: Obstructive Sleep Apnoea in Primary Care

Introduction What is Sleep Apnoea? Nick Flynn, Ireland

What is the Problem for our Patients and the Population?

What is the Latest Screening & Diagnosis? Izolde Bouloukaki, Greece

Managing OSA in Primary Care: A Case Discussion, Claudia Vicente, Portugal

12:05 (Friday 7 May)

12:05 - 12:30

Break with ePoster & eExhibition Viewing

12:30 (Friday 7 May)

12:30 - 13:30

Sponsored Symposium 3: Considerations for Optimising COPD Care: A Multidisciplinary Perspective, Boehringer Ingelheim

1230-1240 Introduction: Stephen Holmes
1240-1255 How can we personalize treatment in primary care? Stephen Holmes
1255-1305 Discussion: All
1305-1320 Navigating COPD Treatment Decisions: James Chalmers
1320-1330 Q&A and Discussion: All

13:30 (Friday 7 May)

13:30 - 13:50

Break with ePoster & eExhibition Viewing

13:50 (Friday 7 May)

13:50 - 15:05

Stream 1 / Session 6: The Immune System & Respiratory Health

The Role of the Microbiome in Allergic Sensitisation, Liam O'Mahony, Ireland

Inflammation and the Microbiome: No Stool Left Unturned, Fergus Shanahan, Ireland

Respiratory Allergy: The Role of Immunotherapy in Primary Care, Dermot Ryan, UK

The Nature Step in the Finnish Allergy Programme, Kimmo Saarinen, Finland

13:50 - 15:05

Stream 2 / Session 6: Bronchiectasis: The Hidden Disease in Primary Care

Bronchiectasis in Adults: The Secondary Care Perspective, James Chalmers, UK

Bronchiectasis in Adults: The Primary Care Perspective, Kevin Gruffydd-Jones, UK

Persistent Bacterial Bronchitis & Bronchiectasis in Children

15:05 (Friday 7 May)

15:05 - 15:30

Break with ePoster & eExhibition Viewing

15:30 (Friday 7 May)

15:30 - 16:45

Plenary Session - Stream 1 / Session 7: IPCRG Strengthening Capacity in Primary Care Respiratory Research & Innovation

1530 Strengthening Capacity in Primary Care Respiratory Research & Innovation Introduction (incl. Research School), Rachel Jordan, UK
1545 IPCRG Research Prioritisation, Arwa Abdel-Aal, UK
1555 FRESH AIR, Evelyn Brakema, Netherlands
1605 NIHR Breathe Well, Peymané Adab, UK
1615 NIHR Global RECHARGE, Sally Singh, UK
1625 NIHR RESPIRE, Ee Ming Khoo, Malaysia
1635 Panel Discussion

17:00 (Friday 7 May)

17:00 - 18:00

Sponsored Symposium 4: GSK - Treatable Traits, Just too Complex for Primary Care?

18:00 (Friday 7 May)

18:00 - 18:30

Break with ePoster & eExhibition Viewing

18:30 (Friday 7 May)

18:30 - 19:30

IPCRG Zoom Rooms Network Session in your own language: French, Portuguese, Mandarin and Spanish

08:00 (Saturday 8 May)

08:00 - 09:00

Sponsored Symposium 5: AstraZeneca - Exacerbation Management in COPD

09:00 (Saturday 8 May)

09:00 - 09:20

Break with ePoster & eExhibition Viewing

09:20 (Saturday 8 May)

09:20 - 10:35

Stream 1 / Session 8: Current Challenges in Asthma

GINA Update and Current Trials, Jaime Correia de Sousa, Portugal

Diagnosis of Asthma: Latest Update, Luke Daines, UK

Building Relationships between Primary & Secondary Care to Improve the Asthma Pathway, Janwillem Kocks & Bennie Reitsma, Netherlands

Using Smart Adherence Data as a Clinical Decision-making Tool, Richard Costello, Ireland

Stream 2 / Session 8: Tobacco Dependence Cases

Presenters:
Darush Attar-Zadeh, UK
Anders Østrem, Norway

10:35 (Saturday 8 May)

10:35 - 10:55

Break with ePoster & eExhibition Viewing

10:55 (Saturday 8 May)

10:55 - 12:10

Stream 1 / Session 9: Current Thinking in COPD

Summary of GOLD 2020, Mark O'Kelly, Ireland

IPCRG GUIDANCE FOR PRIMARY CARE
1. Rational use of inhaled medications for patients with COPD and comorbid conditions, Ioanna Tsiligianni, Greece

2. Evaluation of appropriateness of inhaled corticosteroid (ICS) therapy in COPD and guidance on ICS withdrawal, Miguel Roman Rodríguez, Spain

10:55 - 12:10

Stream 2 / Session 9: Integrating Engagement Technologies into Respiratory Care

Using an Evidence-Based Approach to Improve Engagement in Primary Care CRD Management, Niels Chavannes, Netherlands

Myaircoach: The Use of Home-Monitoring & Mhealth Systems to Predict & Improve Asthma Control, Jacob Sont, Netherlands

Inspirers: Assessing & Improving Adherence to Inhaled Medication in Asthma, Cristina Jacome, Portugal

How a Smartphone App can help Allergic Rhinitis & Asthma Allergy Management: MASK-air, Ema Paulino, Portugal

12:10 (Saturday 8 May)

12:10 - 12:30

Break with ePoster & eExhibition Viewing

12:30 (Saturday 8 May)

12:30 - 13:45

Stream 1 / Session 10: Models of Care for Asthma & COPD: Now & in a Post Covid-19 World

Patient Pathways, Learning & Implications for Team Roles in Asthma & COPD Clinics, Kerstin Romberg & Karin Lisspers, Sweden

Prioritisation of Chronic Care Post COVID-19

Introducing a Whole System Approach to Asthma Care: A Primary Care Perspective, Alia H. Zawawi, Saudi Arabia

Stream 2 / Session 10: Delivery of Respiratory Care: Practical Clinical Update

How CDM Fits into a Modern GP Practice, Austin Byrne, Ireland

Mild Asthma & Step 1 New GINA Guidelines, Peter Greally, Ireland

Chronic Cough in Children, Basil Elnazir, Ireland

13:45 (Saturday 8 May)

13:45 - 14:05

Break with ePoster & eExhibition Viewing

14:05 (Saturday 8 May)

14:05 - 15:20

Stream 1 / Session 11 COVID-19: Vaccinating the World

COVID-19 Vaccines & Implications for Future Vaccine Programmes, Karina Butler, Ireland

COVID-19 Vaccination: Addressing Hesitancy & Improving Acceptance, Azeem Majeed, UK

COVID-19 Vaccination: The Last Mile, Dilip Patil, India

Panel Discussion

14:05 - 15:20

Stream 2 / Session 11: Spirometry Training for Practice Nurses: An Introduction to the Basics

15:20 (Saturday 8 May)

15:20 - 15:40

Break with ePoster & eExhibition Viewing

15:40 (Saturday 8 May)

15:40 - 17:00

Closing Plenary Session - Stream 1 / Session 12: Breathing & Living Well: The Importance of Primary Care

1540 Introduction & Engagement Lead, Siân Williams, IPCRG

1545 Universal Access to Respiratory Healthcare, Sarah Rylance, WHO Chronic Respiratory Disease Lead

1605 IPCRG Alumni: Leading the Way, Juliet McDonnell, IPCRG Teaching & Learning

1620 IPCRG: Leading Primary Care Respiratory Research, Janwillem Kocks, IPCRG President

1630 IPCRG Award Winning Abstract 1 tbc
1640 IPCRG Award Winning Abstract 2 tbc
1650 IPCRG Award Winning Abstract 3 tbc

1700 IPCRG: Celebrating Primary Care in film
Past Conference Dublin 2020 Conference Ireland Events