2023 IPCRG Research school
Various dates from 31st March to 30th June 2023
Online and in person at Munich Scientific meeting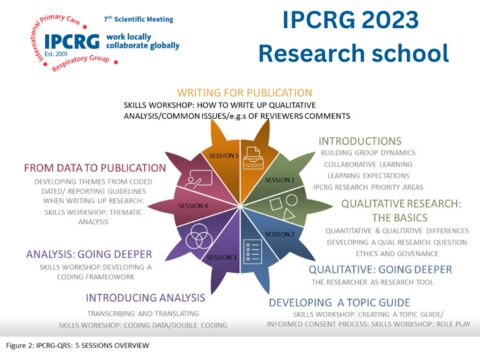 The 2023 Qualitative Research School builds upon previous successful research schools hosted at scientific meetings. This year the research school comprises 5 hybrid teaching blocks. Delegates will learn skills in how to design, implement and write up a qualitative study that answers the following research question: 'A qualitative study exploring the views of primary healthcare professionals on joint working with pharmacists to optimise asthma control' . This topic falls under one of the IPCRG research prioritisation top 10 areas.
What will I learn and how will teaching be delivered?
Two initial online teaching sessions 31st March and 1st April 2023 on consecutive days (Friday/Saturday).
Teaching blocks 1 and 2 will allow time for delegates to build small group learning collaborations. At the end of these blocks, delegates will
have explored the research question;
have considered the ethical issues surrounding the research question;
have created a topic guide and
been given clear guidance on how to collect data to conduct at least one qualitative interview.
Two face to face teaching sessions in Munich on 14th and 15th May 2023
Prior to the third and fourth teaching blocks in Munich, delegates will have conducted one interview and transcribed it (and ideally translated it into English-but this is not essential). During the teaching block in Munich, basic training will be given on qualitative analysis. Delegates will first analyse their own data creating codes, then double code and compare codes in pairs/small groups. On the fourth teaching block in Munich delegates will learn how to group codes into themes and sub-themes and how to present data in publications/presentations.
One final online teaching block on 30th June 2023 (6 weeks after Munich).
Delegates will attend a 'writing retreat' day with each delegate being given a section of a draft article to write, with input from mentors/tutors-following the COREQ reporting guideline for qualitative research.
Timing
The teaching blocks are 4 hours each, with a total teaching time of 20 hours.
31 March 2023 - remote learning block, 10:00-14:00 UK time
1 April 2023 - remote learning block, 10:00-14:00 UK time
14 May 2023 - in-person in Munich, 14:00-18:00 CET
15 May 2023 - in-person in Munich, 10:55-15:50 CET
30 June 2023 - remote learning block, 10:00-14:00 UK time
DELEGATES ONLY ABLE TO ATTEND ONLINE SESSIONS 1 & 2
Delegates can attend these sessions only and/or attend these sessions and conduct an interview. If they email a typed version of their interview, their anonymised transcript can be included (in their absence) in the coding workshops in Munich. Other delegates will code their transcript. They will be sent a copy of their scanned coded transcript and the teaching slides from Munich. They can then attend session 5 online.
DELEGATES ONLY ABLE TO ATTEND TEACHING SESSIONS IN MUNICH: 3 & 4
Delegates will be given anonymised copies of transcripts produced by delegates who have attended sessions 1 & 2 and conducted an interview. This will automatically create' pairs for the double coding exercises.
Past Conference