COPD Wheel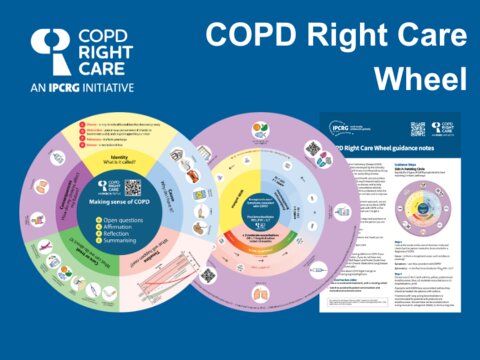 In 2021 we started to develop a new tool to help start new conversations about personalising care for people with COPD. We have worked with two-three multidisciplinary clinicians from each pilot country – Brazil (GEPRAPS), Portugal (GRESP), Spain (GRAP), USA (COPD Foundation), a patient expert from the US COPD Foundation and a community pharmacist from the UK.
The COPD Wheel was launched at our world conference in Malaga, May 2022. After our four pilot countries tested these products with colleagues and patients, the COPD Wheel was revised and finalised, and is due to be launched at our 2023 Scientific Meeting in Munich, Germany.
The team will develop a narrative with case stories, data, policy and system influencing ideas as slide sets, films and written material to support dissemination of the tools.
IPCRG has received funding from Boehringer Ingelheim for developing and testing two novel tools for the COPD Right Care programme.