Research Prioritisation Small Grants - first awards announced!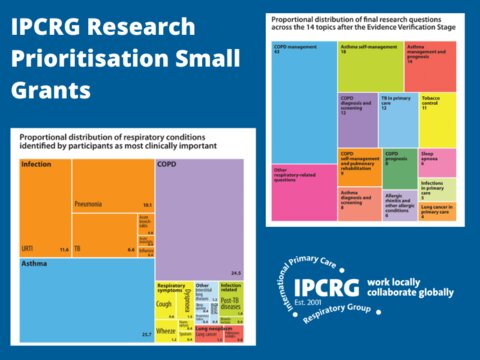 We are pleased to announce the five projects awarded a grant from the first round of our Research Prioritisation Small Grants programme:
How can I exercise at home? Using photo-elicitation to understand sustainable pulmonary rehabilitation methods among people living with COPD in Malaysia. Hani Syahida Salim, Malaysia
Barriers and facilitators to implementation and uptake of inhaled medicines for the treatment of asthma in The Gambia. Shamanthi Jayasooriya, UK
Priorities and barriers in asthma care in primary health care in selected Central and South-eastern European countries. Žan Trontelj, Slovenia
A systematic review about the possible role of learning theories in the development of a new educational model for inhalation technique in asthma or COPD patients. Lars Dijk, Netherlands
Exploring the multidisciplinary approach in the management of persistent cough within primary care in resource limited settings. Edwinah Atusingwize, Uganda
We very much look forward to seeing the results from these projects, and how they contribute to our top 10 priorities from the research prioritisation exercise. The second and final deadline for the IPCRG Research Prioritisation Small Grants programme is 30 April 2023. A further 5 awards of up to £5,000 are available, with Early Career Researchers particularly encouraged to apply. Find out more about our key criteria here.