IPCRG Research Prioritisation Small Grants - Awardees announced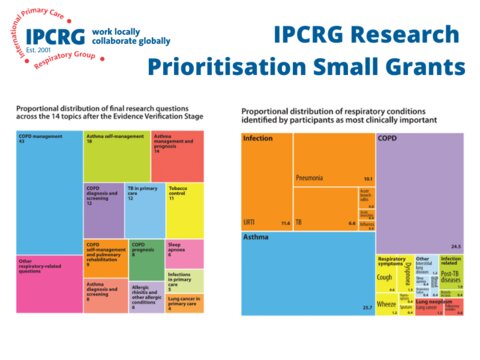 IPCRG is delighted to announce the launch of the IPCRG Research Prioritisation Small Grants programme, which will support the response to our recent research prioritisation exercise.
Our research priorities can be taken forward by everyone involved in primary care and respiratory research, but the top 10 priorities now receive special focus through these awards.
10 awards of up to £5,000 were offered over 2 rounds, with the second submission deadline closing on 31 May 2023 for round 2.
We are pleased to announce the 5 projects awarded a grant from our first round:
How can I exercise at home? Using photo-elicitation to understand sustainable pulmonary rehabilitation methods among people living with COPD in Malaysia (Hani Syahida Salim, Malaysia)
Barriers and facilitators to implementation and uptake of inhaled medicines for the treatment of asthma in The Gambia (Shamanthi Jayasooriya, UK)
Priorities and barriers in asthma care in primary health care in selected Central and (South)eastern European countries (Žan Trontelj, Slovenia)
A systematic review about the possible role of learning theories in the development of a new educational model for inhalation technique in asthma or COPD patients (Lars Dijk, Nederland)
Exploring the multidisciplinary approach in the management of persistent cough within primary care in resource limited settings (Edwinah Atusingwize, Uganda)
The six projects awarded a grant from the second and final round are:
Applying the Test of Adherence to Inhalers Toolkit to patients with COPD in Kyrgyzstan (Aizhamal Tabyshova, Kyrgyzstan)
Exploring the association between sleep apnoea and chronic cough in the Kyrgyz Republic: towards the definition of an ad-hoc diagnostic pathway for primary care (Lorenzo Cirri, Switzerland/Kyrgyzstan)
Identifying monitoring tools from the GPs and patient perspective for uncontrolled symptoms of asthma, chronic cough or breathlessness (Alice Crawford, Australia)
Reviewing the current role of remote care strategies in the management of childhood asthma (Mauricio Soto, Chile)
Development and feasibility evaluation of a decision support tool to diagnose and manage chronic cough at primary health clinics (Wen Ming Koh, Malaysia)
Exploring stakeholders' attitudes and perspectives on screening for COPD (Zihan Pan, China)
We also intend the programme to help Early Career Researchers to develop their expertise. Proposals from any country were invited, but they should be from a recognised research organisation (e.g University or Research Institute) and a supervisor must be committed to supporting the research and researcher/s named in the proposal. The award itself will be made to the organisation, likely in the name of the supervisor.
We are excited about this unique opportunity, the results it should offer to respiratory primary care, and the interest we expect it to stimulate in respiratory primary care research. We very much look forward to seeing the finished projects.
Our key criteria were:
The likelihood that the question concerned will be (in part or in full) answered
The impact and potential to make a difference to care
The impact, in terms of primary care and respiratory research capacity
Clear research approach and justification
The support of an experienced supervisor
Appropriate data source, study design and analysis methods
Awareness and compliance with regulations and issues around accessing data
The quality of the proposal
Have the potential to be used as models for larger projects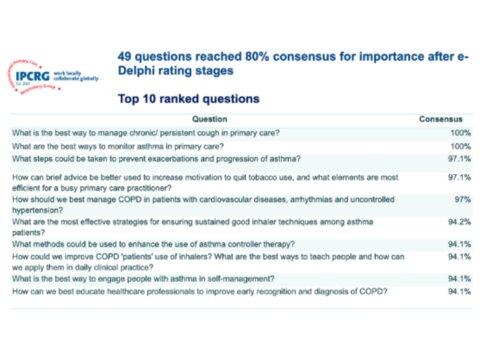 We thank you for your submissions.
IPCRG Research Leadership Team