The Impact of Nicotine & Smoking in COVID-19 and Chronic Respiratory Diseases (Asthma & COPD)
27 Jun 2020, 12:00 to 14:00
Webinar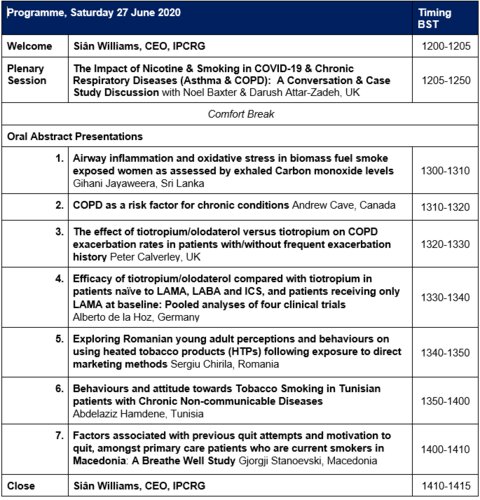 The Impact of Nicotine & Smoking in COVID-19 and
Chronic Respiratory Diseases (Asthma & COPD) -
A Conversation & Case Study Discussion with Noel Baxter and
Darush Attar-Zadeh, UK
Saturday 27 June 2020, 1200-1400hrs BST
Our topic this week is the highly topical Impact of Nicotine & Smoking in COVID-19 & Chronic Respiratory Diseases (Asthma & COPD). We are trying something a little different: it will be a conversation & case study discussion between Noel Baxter, GP & Darush Attar-Zadeh, pharmacist.
Together with two other IPCRG colleagues, Vidal Barchilon and Anders Østrem, they have recently advised Medthority on a new free online e-learning programme on treating tobacco dependence and will draw on our new interactive case studies in their discussion. They will also explore the very latest evidence about nicotine, smoking and COVID-19 and the availability of essential stop smoking medicines around the world.
This discussion will be followed by some of the highly ranked abstracts previously selected for presentation at the postponed 10th IPCRG World Conference that was due to be held in Dublin in May this year. These webinars are enabling researchers to share their work with you, an international audience, whilst gaining important peer review that otherwise might have been missed during the current pandemic.

IPCRG would like to express their appreciation to Boehringer Ingelheim for supporting this webinar.
Boehringer Ingelheim is one of the world's 20 leading pharmaceutical companies. Headquartered in Ingelheim, Germany, Boehringer Ingelheim operates globally with 146 affiliates and more than 47,700 employees. The focus of the family-owned company, founded in 1885, is researching, developing, manufacturing and marketing new medications of high therapeutic value for human and veterinary medicine. Social responsibility is an important element of the corporate culture at Boehringer Ingelheim. This includes worldwide involvement in social projects, such as the initiative Making more Health. Boehringer Ingelheim has over 90 years of heritage in respiratory disease. Since 1921 it has emerged as a leader in this disease area, having launched several treatments in a range of respiratory conditions in areas of high unmet patient need, including asthma, chronic obstructive pulmonary disease (COPD), idiopathic pulmonary fibrosis (IPF) and lung cancer. Our focus has always been on improving the quality of life of patients suffering from debilitating respiratory diseases and enabling them to maintain a more independent life.
Past Conference COVID COVID-19 WEBINAR