Latin America Teach the Teacher Asthma Right Care - Tier 2 Mexico
16-18 March 2022
Online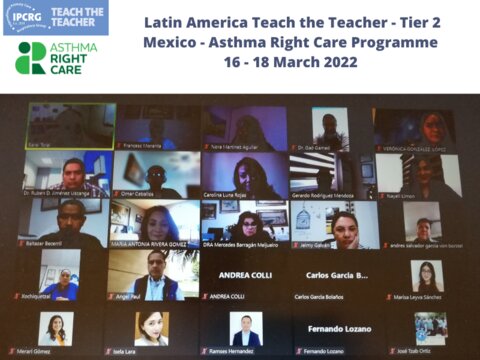 EN
Following the IPCRG Teach the Teacher© programme for Latin America on Asthma Right Care held online last October and November 2021, the Mexican Tier 2 of the TtT was held online on 16 and 18 March 2022.
The Mexican teachers trained in the Tier 1 of the TtT programme, as well as an IPCRG Asthma Right Care Faculty Master, participated in this event. The objective of this Tier 2 was to spread the message of Asthma Right Care in Mexico, through the training of doctors especially interested in the correct management of the asthmatic patient following the current recommendations of the international guidelines on this subject. These physicians came from different levels of care, such as public or private health sectors, primary care or hospital care, specialists in family medicine, allergists, pneumologists, paediatricians, but have in common their experience and expertise in asthma management. These will be the Mexican masters for Tier 3, which we hope will already be face-to-face in order to involve more front-line professionals in the correct management of asthma.
ES
Siguiendo la linea del IPCRG Teach the Teacher© para América latina sobre Asthma Right Care celebrado de forma online el pasado octubre y noviembre de 2021, se celebró los días 16 y 18 de marzo la segunda fase del TtT a nivel local para México de forma tambien online.
En este evento participaron como profesorado los profesores mexicanos formados en la primera fase del progrma TtT, además de un representante de profesorado experto del IPCRG. El objetivo de esta segunda fase es el de expander el mensaje del Asthma right care en México, a traves de la formación de médicos especialmente interesados en el correcto manejo del paciente asmático siguiendo las recomendaciones actuales de las guias internacionales sobre esta materia. Estos facultativos provienen de diferentes niveles asistenciales, como son la medicina publica, o la privada, que ejercen en atención primaria o atención hospitalaria, especialistas en medicina de familia, alergologos, pneumologos, pediatras. Pero que tienen en común su experiencia y maestria en el manejo del asma. Estos seran los profesores mexicanos de la fase 3 que esperamos que ya sea en modalidad presencial con el fin de involucrar a más profesioanles de primera linea en el correcto manejo del asma.
Teach the Teacher Past Conference