COVID-19 & the Primary Care Management of Asthma
06 Jun 2020, 12:00 to 14:00
Webinar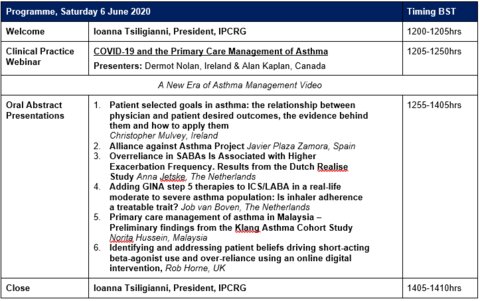 4th IPCRG Clinical Practice Webinar & Abstract Presentations
Saturday 6 June 2020, 1200-1400hrs BST
There is uncertainty about the management of asthma during COVID-19 and the risks associated with it, but as each day progresses, we are learning more. The overarching objectives of this webinar are to ensure that you as a Healthcare Professional are familiar with the current evidence and consensus, and to share learning about the best ways to proactively offer support to all the people with asthma in your care. We are delighted to be joined by Dermot Nolan from Ireland and Alan Kaplan from Canada who will share their knowledge and expertise on COVID-19 and the primary care management of asthma.
Our plenary talks will be followed by some of the best-scoring abstracts that would have been presented at the 10th IPCRG World Conference enabling researchers to share their work with a truly international platform and gain important peer review.

We are grateful to AstraZeneca for their support for this webinar.
Respiratory & Immunology is one of AstraZeneca's three therapy areas and is a key growth driver for the Company.
AstraZeneca is an established leader in respiratory care, and its inhaled and biologic medicines reached more than 53 million patients in 2019. Building on a 50-year heritage, the Company aims to transform the treatment of asthma and COPD by focusing on earlier biology-led treatment, eliminating preventable asthma attacks, and removing COPD as a top-three leading cause of death. The Company's early respiratory research is focused on emerging science involving immune mechanisms, lung damage and abnormal cell repair processes in disease and neuronal dysfunction.
With common pathways and underlying disease drivers across respiratory and immunology, AstraZeneca is following the science from chronic lung diseases to immunology-driven disease areas. The Company's growing presence in immunology is focused on five mid- to late-stage franchises with multi-disease potential, in areas including rheumatology (including lupus), dermatology, gastroenterology, and systemic eosinophilic-driven diseases. AstraZeneca's ambition in Respiratory & Immunology is to achieve disease modification and durable remission for millions of patients worldwide.
Past Conference COVID COVID-19 WEBINAR