COVID-19 & the Management of COPD in Primary Care
20 Jun 2020, 10:00 to 12:00
Webinar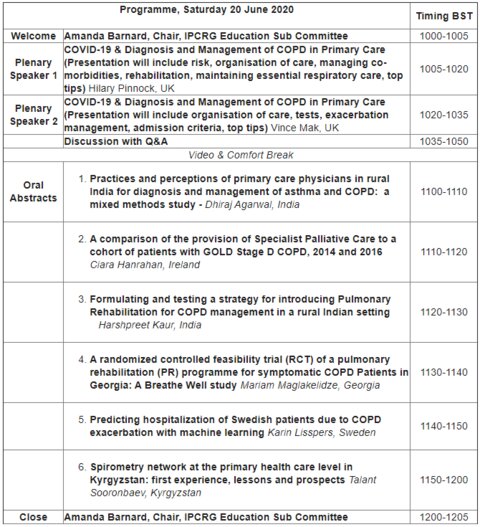 6th IPCRG Clinical Practice Webinar & Abstract Presentations
Saturday 20 June 2020, 1000-1200hrs BST
Our topic this week covers COVID-19 & the Diagnosis and Management of COPD in Primary Care. We are delighted to welcome our speakers Professor Hilary Pinnock, Professor of Primary Care Respiratory Medicine, The University of Edinburgh, General Practitioner, Whitstable Medical Practice and immediate past Chair of IPCRG Education committee and Dr Vince Mak, NHS London Clinical Director for Respiratory Strategic Clinical Network, Executive Committee Member of our UK group, PCRS, and an active member of our Asthma Right Care movement.
Over recent years, the trend to diagnose and manage chronic obstructive pulmonary disease (COPD) in primary care has increased. However, there remains significant national variation in what is expected, encouraged or feasible. This is now more complex with COVID-19. This webinar will provide an update on how primary care can diagnose and support the management and palliation of COPD in different settings. It will include organisation of care, remote consultations, feasible diagnostic and assessment tests during COVID-19, helping people quit smoking, assessment and management of exacerbations, prescribing, admission criteria, options for pulmonary rehabilitation and managing co-morbidities.
Our plenary talks are followed by some of the most highly ranked abstracts that were selected for presentation at the 10th IPCRG World Conference which has been postponed for a year. These webinars are helping researchers share their work with an international audience and gain important peer review that otherwise might have been missed during the current pandemic.

IPCRG would like to express their appreciation to Astra Zeneca for supporting this webinar.
Respiratory & Immunology is one of AstraZeneca's three therapy areas and is a key growth driver for the Company.
AstraZeneca is an established leader in respiratory care, and its inhaled and biologic medicines reached more than 53 million patients in 2019. Building on a 50-year heritage, the Company aims to transform the treatment of asthma and COPD by focusing on earlier biology-led treatment, eliminating preventable asthma attacks, and removing COPD as a top-three leading cause of death. The Company's early respiratory research is focused on emerging science involving immune mechanisms, lung damage and abnormal cell repair processes in disease and neuronal dysfunction.

With common pathways and underlying disease drivers across respiratory and immunology, AstraZeneca is following the science from chronic lung diseases to immunology-driven disease areas. The Company's growing presence in immunology is focused on five mid- to late-stage franchises with multi-disease potential, in areas including rheumatology (including lupus), dermatology, gastroenterology, and systemic eosinophilic-driven diseases. AstraZeneca's ambition in Respiratory & Immunology is to achieve disease modification and durable remission for millions of patients worldwide.
Past Conference COVID COVID-19 WEBINAR