COVID-19 & the Challenges of Diagnosing Asthma in Primary Care
13 Jun 2020, 15:00 to 17:00
Webinar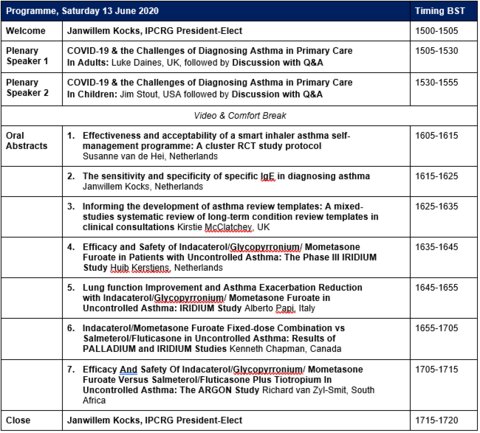 Saturday 13 June 2020, 1500-1720hrs BST
Our topic this week covers the Challenges of Diagnosing Asthma in Primary Care in adults and children. Misdiagnosis of asthma is common and has now become more complicated in the time of COVID-19. Therefore, we are delighted to be joined by two IPCRG colleagues, Luke Daines, who is a GP and Academic Clinical Fellow at the University of Edinburgh & Jim Stout, Professor of Pediatrics at the University of Washington, and a pediatrician at Seattle Children's Hospital. They will explore why asthma can be difficult to diagnose, the principles of asthma diagnosis in primary care, how to communicate well with newly diagnosed adults, children and their parents, and then discuss the impact of COVID-19 on organisation of care and clinical practice.
Our plenary talks will be followed by some of the best-scoring abstracts due to be presented at the 10th IPCRG World Conference. These webinars are enabling researchers to share their work with a truly international platform and gain important peer review.

At Novartis, we are working to reimagine respiratory treatment by developing innovative medicines and digital advances for patients. Indacaterol acetate, glycopyrronium bromide and mometasone furoate (IND/GLY/MF) and IND/MF asthma PLATINUM program Phase III trials includes more than 7,500 patients worldwide. In light with our commitments to provide health care practitioners worldwide with important and relevant news flow in Respiratory disease management, Novartis is sponsoring this Webinar & Abstract Presentations Session.
Distinguished experts will present key results from the pivotal studies on IND/GLY/MF (a LABA/LAMA/ICS) and IND/MF (a LABA/ICS), for the treatment of asthma.
Prof Huib Kerstjens, Netherlands will present the results of the IRIDIUM study, which assessed the lung function, asthma control and exacerbation outcomes with IND/GLY/MF medium- and high-dose once-daily (o.d.) versus the respective IND/MF doses o.d. and salmeterol xinafoate /fluticasone propionate (SAL/FLU) high-dose twice-daily (b.i.d.), in patients with uncontrolled asthma.
Prof Alberto Papi, Italy will present the outcomes of IRIDIUM post hoc analysis that evaluated efficacy of IND/GLY/MF medium-dose o.d. in terms of lung function and exacerbations versus SAL/FLU high-dose b.i.d.
Prof Kenneth R. Chapman, Canada will present the outcomes of PALLADIUM and IRIDIUM pre-specified pooled analysis that compared IND/MF high-dose o.d. versus SAL/FLU high-dose b.i.d. in terms of effects on lung function and asthma exacerbations.
Prof Richard van Zyl-Smit, South Africa will present the results of the ARGON study, which assessed the efficacy and safety of IND/GLY/MF medium and high doses o.d. versus the free combination of SAL/FLU high-dose b.i.d. + tiotropium o.d., in patients with uncontrolled asthma.
Past Conference COVID COVID-19 WEBINAR