Asthma Right Care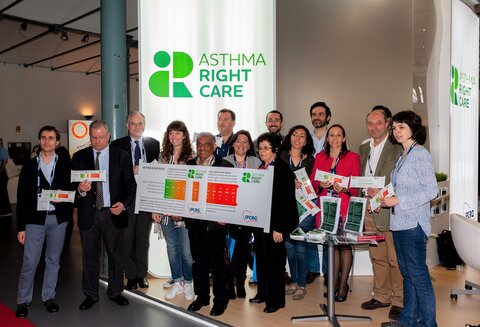 The IPCRG has initiated a global social movement to create a desire for change in the management of asthma. Our hunch was, and remains, that there is a relatively high degree of comfort with the status quo, which means there is not much 'noise' about the need for change. And yet those in the IPCRG network know that there is a real need for improvement because there is current evidence of avoidable harm and waste, that costs lives and wellbeing. So we need to disrupt that thinking and generate followers who care about and deliver Asthma Right Care. Right care means eliminating overuse and underuse of effective interventions, moving away from episodic symptom relief and acute management, and moving to a chronic disease model. It means following international or national asthma guidelines and appropriate use of anti-inflammatory inhaled medicine. In other words:
Doing the right things and only the right things in the right way for the right people at the right time in the right place, whatever that means in the local context

Underpinning principles
Social movements for health - Nesta
Leading large-scale change - NHS, UK
There is also growing evidence of the positive impact right use can have in terms of reducing inhaler waste and carbon emissions.

We set up a multi-national Delivery Team from four pilot countries – Canada, Portugal, Spain and the UK – which includes patients, pharmacists, GPs and nurses who have been helping us create resources (some of which are featured below). Following stakeholder mapping, each pilot has run its own 'design charrette' to take these prototypes, test them, adapt them, and suggest additional approaches.
Our priority, in the first phase in each country, is in getting conversations started about the over-reliance on symptom relief - often short-acting beta2 agonists (SABAs) - because we think it is the best way to achieve the disruption we need - to talk about the problem we need to solve, so that stakeholders are then looking for answers to what is right care. We have been testing how to trigger these conversations between patients, pharmacists, GPs, nurses and others involved in front-line care. We have aimed to create a sense of discomfort and dissatisfaction with the present state, so that there is a felt need for information, guidance and support for better options for improving patient outcomes.
The programme is now spreading to the Netherlands, Greece, Australia, Argentina and France and, we hope during 2021, more countries in the IPCRG network.
The implementation pack, including videos, slide rules, reliever reliance test, question and challenge cards and other materials, will help take you through the process from the stakeholder mapping, design charrette to a range of interventions to gain Asthma Right Care followers.