Asthma Right Care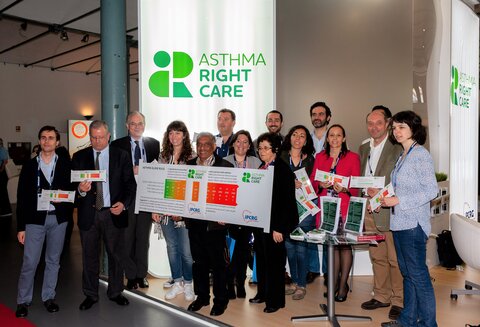 The IPCRG has created an international pilot to explore how to use social movement approaches to create a desire for change in the management of asthma. Our hunch was, and remains, that there is a relatively high degree of comfort with the status quo, which means there is not much 'noise' about the need for change. And yet those in the IPCRG network know that there is a real need for improvement and we need to disrupt that thinking.
We set up a multi-national Delivery Team from four pilot countries – Canada, Portugal, Spain and the UK – which includes patients, pharmacists, GPs and nurses who have been helping us create resources (some of which are featured below). Each pilot has run its own 'design charrette' to take these prototypes, test them, adapt them, and suggest additional approaches.
Our priority, in the first phase in each country, is in getting conversations started about the over-reliance on short-acting beta2 agonists (SABAs). We have been testing how to trigger these conversations between patients, pharmacists, GPs, nurses and others involved in front-line care. We have aimed to create a sense of discomfort and dissatisfaction with the present state, so that there is a felt need for information about better options for improving patient outcomes.
The programme is now spreading to the Netherlands, France and, we hope during 2020-21, more countries in the IPCRG network.
The implementation pack, including videos, slide rules and other materials, will help take you through the process from the stakeholder mapping, design charrette to a range of interventions to gain Asthma Right Care followers.