IPCRG and Climate Change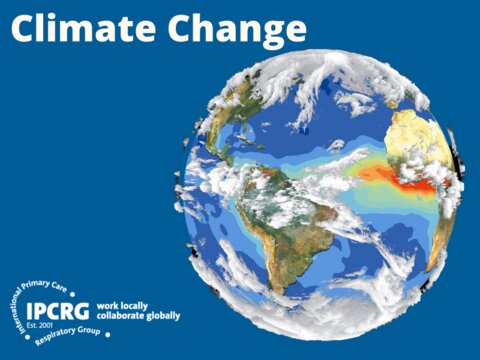 Introduction to IPCRG and Climate Change
IPCRG will work in partnership with organisations to help us and our networks achieve the "Triple Bottom Line" that takes account of the economic, environmental and social impact of our personal and organisational actions. You will find links below and in the righthand bar to organisations that offer advocacy and communications material and to our own editorial published in November 2021 in npj Primary Care Respiratory Medicine. We will feature a number of experts at our 11th World Conference, who will look at the current impact of global warming on respiratory health around the world, and offer practical measures for our day to day lives, in the consultation, and as advocates for health.
Useful Links
1. Healthy Climate Prescription letter, signed by IPCRG to national leaders and delegations at COP26 supported by the Global Climate and Health Alliance and the World Health Organization in service of the medical and health community around the world
2. Global Climate and Health Alliance Resources- https://climateandhealthalliance.org/resources/
3. Global Climate and Health Alliance Publications on air quality https://climateandhealthalliance.org/news/publications/
4. BreatheLife combines public health and climate change expertise with guidance on implementing solutions to air pollution in support of global development goals. It's a partnership of:
The World Health Organization, an agency of the United Nations focused on public health. It has been building a better, healthier world for almost seventy years. With offices in over 150 countries
The Climate & Clean Air Coalition, hosted by UN Environment, a collaborative global effort working towards protecting our climate and reducing air pollution to create a sustainable future for all of us.
UN Environment, the leading global voice on the environment. It sets the global environmental agenda and promotes the coherent implementation of the environmental dimension of sustainable development goals.The World Bank, which offers support to developing countries through policy advice, research and analysis, and technical assistance in areas such as education, health, public administration, infrastructure, financial. https://breathelife2030.org/resources/#health-professionals
5. UK Sustainability and Respiratory Health network https://networks.sustainablehealthcare.org.uk/network/sustainable-respir... and https://networks.sustainablehealthcare.org.uk/network/sustainable-primar... hosted by The Centre for Sustainable Healthcare which also supports networks to enable communities of like-minded people to collaborate on sustainability in their clinical specialty or area of interest.
7. Parents for Future letter to COP26 and Listen to Our Childrens Air soundscape presented at the Conference and featured in this press coverage.
8. Around the world health workers are witnessing the impacts of climate change on their patients. In this powerful video, they have a clear message for global leaders
9. English Greener Practice Guide to Inhaler Prescribing