What are the COVID & respiratory questions you want answers to?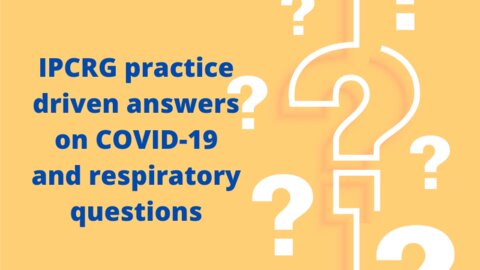 The IPCRG wants to help colleagues achieve better outcomes for patients by answering the emerging questions that health professionals in primary care are asking now, starting with COVID.
What have been your most pressing issues from the past 2 weeks?
We want you to tell us what you notice coming through your clinic door that you don't have good primary care solutions for and by acting as our "sentinel", we can then find answers to help the wider community. We will do this using available literature, colleague experiences and concluding with a "so what do I do now" statement.
We are not just looking for a research question, we want you to tell us about real world problems whether it be a change in patient demand or features of clinical presentations, patient questions that you can't answer or medicines effect and supply issues.
Our answer group prioritises the most pressing questions they receive and these will be included every 2 weeks for you to further prioritise within the question capture form. There is also an opportunity to suggest some evidence or your view to support the final answer to questions raised.
Please add your questions here
If you would rather receive these notifications as part of a WhatsApp group, please send us your mobile number and we will add you to the 'Sentinel Network group'
Our vision is that the IPCRG Sentinel Network with a focus on COVID-19 and respiratory care will be long-lasting and act as a respected early warning system flagging critical primary care respiratory questions. We aim to answer the most pressing one to two questions every two weeks, with a group of clinical colleagues and a librarian developing the answers.
This message has been sent to clinical practice colleagues across the world who are actively involved with the IPCRG. Please do share with colleagues too who might be interested in joining the sentinel network and are willing to complete the very short question capture form regularly. We would be happy to acknowledge your participation in our Sentinel Network. Over time, it may lead to publications or influence future research.