Teach the Teacher Global RECHARGE Programme - September/October 2021
Teach the Teacher - Pulmonary Rehabilitation. IPCRG and the NIHR Global RECHARGE programme came together in September and October 2021 online with eighteen country master teachers from India (Pune and Delhi), Kyrgyzstan, Malawi, Sri Lanka and Uganda. There were three 'firsts' for this TtT event: The first one online, first with a multiprofessional group of teachers and first about Pulmonary Rehabilitation.
The NIHR funded global research group RECHARGE had a key objective of delivering a training programme to support the delivery of PR in their partner countries. The Teach the Teacher (TtT) mode is a scalable education programme that can be used to build sustainable local capacity in PR teaching and delivery. We had two key training objectives:
1. The first was to enable implementation of the 'Fundamentals of Pulmonary Rehabilitation' in the participating countries.
Patient Selection and Initial Assessment
Properties and conduct of the 6MWT and ISWT
Patient Education
Fundamentals of exercise prescription - aerobic training
2. The second aim was to create a sustainable resource in each country of teachers who are able to disseminate this learning so that the 'frontline' and patients can benefit.
The Teach the Teacher© multi-tier education programme is based on a family medicine training programme from the European Academy of Teachers in General Practice (EURACT) primary care teaching and learning model, known as the "BLED course". IPCRG has been adapting and developing this programme for primary care respiratory education since 2015. This approach aims to build sustainable local capacity by not only providing education on the relevant clinical topic, but also by providing delegates with the skills to adapt the education to the needs of their local context. This event was the first time with a multi-professional group, the first time online and the first time about Pulmonary Rehabilitation and so was a significant developmental step for this programme.
IPCRG was able to work with the NIHR Global RECHARGE programme to help it achieve key elements of its three key objectives by enabling delegates using the RECHARGE developed materials to think about teaching, adaptation, and implementation to local settings whilst maintaining fidelity to the fundamentals of PR:
To develop a culturally acceptable Pulmonary Rehabilitation intervention and ensure that healthcare professionals are able to deliver a high-quality PR programme.
To develop an international, robust and secure PR dataset to ensure a common way to record information about lung disease and rehabilitation across LMICs.
The development of a new research capacity for the LMICs engaged in the project. Training will be delivered locally to help health professionals to deliver PR effectively, develop data management and other health research skills and make it possible to carry out international comparisons with LMIC partners.
Participating countries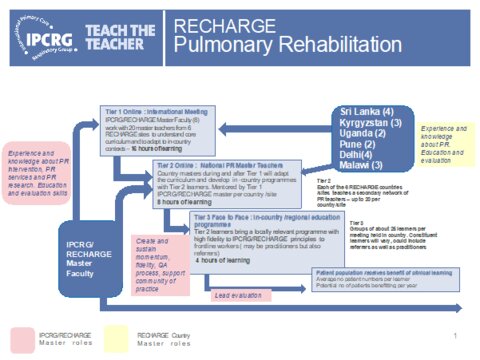 The six RECHARGE participating countries/sites were from India (Pune & Delhi sites), Sri Lanka, Kyrgyzstan, Malawi and Uganda. We had eighteen country teachers who were recruited from the active RECHARGE teams.
Selecting teachers, understanding the local situation and planning the programme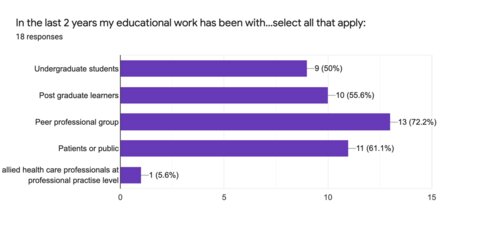 We selected the Tier 1 IPCRG/RECHARGE Country Master Faculty using selection criteria that was based on both their experience and interest in teaching as well as their clinical and research backgrounds. A key role of a Tier 1 country master is that they have good networks to cascade the curriculum devised.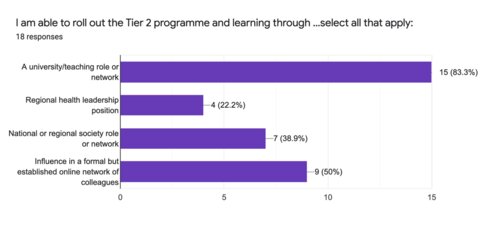 A situational analysis survey was also completed by each selected delegate to inform the curriculum development and learning objectives.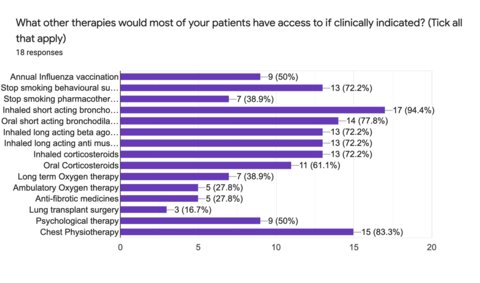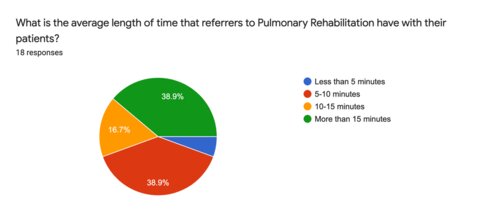 The IPCRG international faculty and Leicester University team were matched with each country in order to strengthen networks and provide mentoring after the tier 1 events to support their future roll out. Prior to the events, the country teachers and master faculty connected online and shared their hopes and fears, this was one element of the programme's pivot to online networking to build a community of learning before the course started.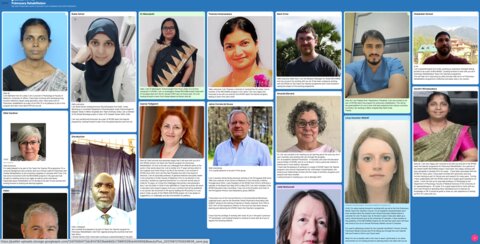 Tier 1 event online
The international meeting occurred over 4 sessions that each lasted half a day. During this time the IPCRG/RECHARGE Masters and the In-Country Masters explored teaching principles and techniques, the components of PR and considered how to adapt the core PR curriculum for their situation. They also considered how to ensure their country programmes were culturally appropriate.
A curriculum was developed over four online sessions that would enable local adaptation by the national teachers to be relevant to their local setting to include:
· How to teach others about pulmonary rehabilitation as an intervention and service
· How to deliver a high-quality PR programme
· How to measure and improve and be a sustainable service.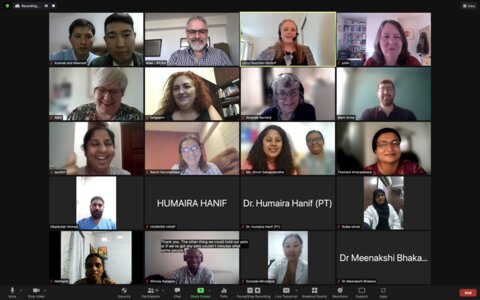 Throughout the course, the balance between teaching the important elements of PR and exploring how the country masters would subsequently teach this to their learners was made by explicit sharing and describing of the master faculty process in running the course and sharing of what tools were being used.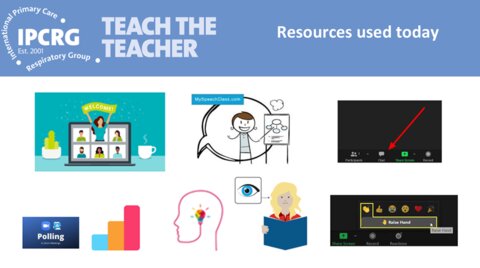 Each country team developed proposals for bespoke teaching programmes – designed to develop the skills and knowledge required to provide effective support for developing pulmonary rehabilitation.
During the sessions the group explored issues around adaptation of the physical components of PR and the educational aspects. They also discussed and made plans for cultural adaptations through listening to each other's experiences.



Final Presentations
At the end of the Tier 1 events each country site presented how they were going to take forward both their own PR service development as well as how they were planning to develop their Tier 2 and 3 programmes.
The groups demonstrated their learning about adaptation of PR to local environments, how to develop a teaching programme and how to work with people in their communities to ensure these programmes could move forward.
We incorporated theory and practice of leadership skills during the course and this was also demonstrated well in the final presentations.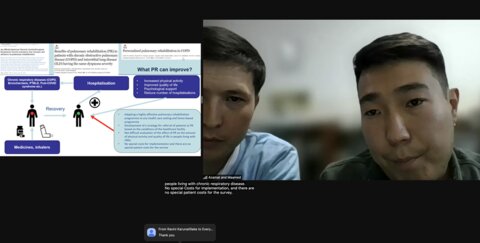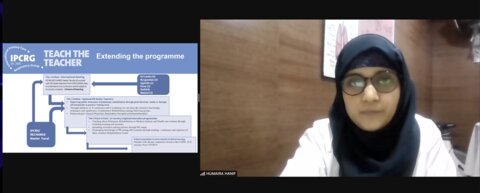 After the Tier 1 meeting
At the end of the course, the country masters had at least initial plans for their own programme development and a Tier 2 training programme to create a new set of teachers who can have a wider impact at Tier 3 meetings nationally, delivering a programme with the agreed clinical content.
The Tier 1 Country masters well developed connections with the IPCRG /RECHARGE international master faculty was important for ongoing mentoring and support.
We are now embarking on a period of evaluation using an adapted model that considers the learning perspectives of an adult professional learner and will report in this in 2022 as the programmes develop.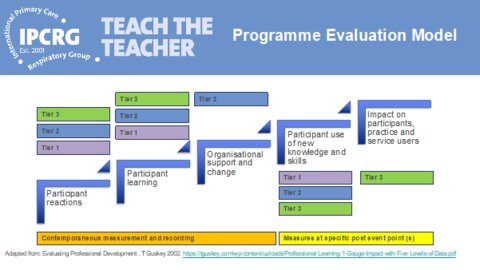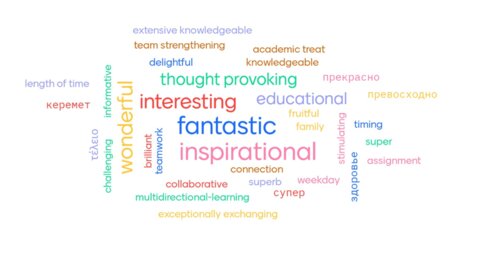 We look forward to seeing the progress through abstracts of the teams work at the 11th IPCRG World Conference in Malaga in May 2022.
Noel Baxter
Joint CEO