REGISTER NOW for the 10th IPCRG World Conference 6-8 May 2021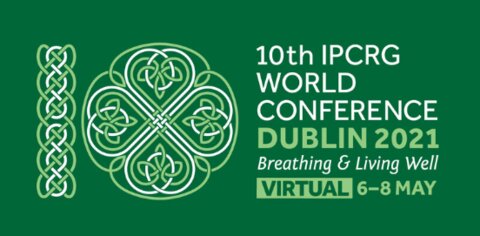 For the first time in our history, the 10th IPCRG World Conference is taking place virtually. We look forward to bringing the global primary care respiratory community together online for a comprehensive update on best practice in primary respiratory care. This is a great opportunity to listen, engage and discuss the latest research and reflections in respiratory medicine. Find out what your colleagues have been doing to ensure high quality respiratory care is delivered to patients during the pandemic.
This is the first time we have connected as a respiratory community since Porto, 2018 and the world is now a quite different place. So, clear your diary now for 6-8 May to meet friends, old and new. Our delegate fees are low, so the conference is accessible to all. We hope people might convert funds held for flights and accommodation to buy registrations for their teams and colleagues. If you require support to attend, please contact conferencedirector [at] ipcrg [dot] org.
Our ambitious and comprehensive programme is aimed at ALL members of the multi-disciplinary team working in primary care settings in low-, middle- and high-income countries. We have sessions on the respiratory conditions you see regularly – asthma, COPD, bronchiectasis, sleep apnoea, cough, breathlessness, allergy, tobacco dependence, updates on COVID-19, long/post COVID-19, COVID-19 vaccination, and operational considerations such as the organisation of care and remote working. We know many of you care deeply about climate change, so we have a session on improving our environment and respiratory health.
The virtual platform that we are using has been tested and offers a great user experience. Here are some experiences from colleagues who attended a similar conference that used the same virtual platform.
Worked well being online. This is surely the future of conferences.
Technology worked well. Interaction was great with the use of polling and questions on slido. Would be keen to attend virtually in the future as it made it far more flexible if you are working or have childcare commitments to be able to still attend virtually.
Excellent use of technology to provide a conference in current circumstance.
Really good - it is great to be able to access the content for 6 months. This allowed me to "attend" even though I was unable to take time off both conference days. I look forward to accessing the rest of the content over the next few months.
Great conference. I enjoyed how the event was able to be put on virtually - this has allowed more people to attend the event and meant it was a lot cheaper for me.
Great agenda, all speakers were very clear and authoritative. The online format was very useful as i was able to watch sessions that I couldn't see live due to clinical commitments. It also saves on the hassle of travel. I really hope you retain this virtual format in future
Everything you will hear and see at the 10th World Conference is underpinned by the IPCRG vision of a global population breathing and feeling well through universal access to right care.
Registration for the 10th IPCRG World Conference includes:
Access to the full conference programme live and on-demand following the conference – the content is available for 6 months, until November 2021
Access to the first IPCRG ePoster Showcase hosting the latest primary care research which will be available until the 11th IPCRG World Conference, planned for Malaga, 5-7 May 2022
Access to the IPCRG Content
Access to the Sponsors Forum
Access to our Networking Rooms to allow for connection & collaboration with your global colleagues
Certificate - currently waiting Continuing Medical Education (CME) approval from the Irish College of General Practitioners
Important conference dates:
Registration is OPEN now – you can register here: www.ipcrg2021.org
Early Bird Delegate Fees payable until 31 March 2021
ePoster Showcase & Sponsors Forum opens on 3 May 2021
Conference is on 6-8 May 2021
Stay Connected – follow us on Facebook & Twitter for the latest news & regular updates on 10th IPCRG World Conference.