Conference Early Bird Discount ends on 31st March at 23.59 BST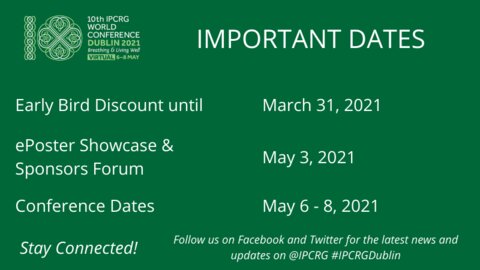 We invite you to register at the early bird discounted rates for our 1st virtual IPCRG conference on 6-8 May 2021. We have an inspiring & comprehensive programme that is designed by Primary Care, for Primary Care, aimed at all who are interested in delivering best practice for patients with the respiratory conditions you manage every day.
We have sessions that will update your skills & knowledge about the latest thinking and practice on the respiratory conditions you see regularly including asthma, COPD, bronchiectasis, sleep apnoea, cough, breathlessness, allergy, tobacco dependence. Given the global situation, we have important updates on COVID-19, the challenges that long/post COVID-19 brings and the even bigger challenge of ensuring that your patients are vaccinated against COVID-19. We will give you insights as how to best manage the organisation & delivery of care and how you can embrace remote working. We care deeply about climate change, so we have included a session on improving our environment and how this impacts respiratory health.
Please look at some of the topics and speakers on the programme:
THE IMMUNE SYSTEM & RESPIRATORY HEALTH featuring Liam O'Mahony, Fergus Shanahan, Dermot Ryan, Kimmo Saarinen
UNDERSTANDING BREATHLESSNESS - ASSESSMENT & MANAGEMENT IN THE POST COVID-19 WORLD featuring Hanna Sandelowsky, Nazim Uzzaman, Anna Spathis, Sally Singh
THE CHALLENGE OF COVID-19: A CLINICAL UPDATE featuring Nisreen Alwan, Hilary Pinnock, Brian McKinstry
IMPROVING OUR ENVIRONMENT & RESPIRATORY HEALTH featuring Luke Clancy, Amanda Barnard, Bruce Kirenga, Frederik van Gemert
Our global community has not been together since Porto in May 2018. We also appreciate that for many the pandemic has brought challenges that we had not envisaged, so join us to meet colleagues, old and new to share experiences, learn, enjoy, and support each other.
Registration includes:
Over 20 programme sessions with informed, expert speakers that you will have access to for 6 months
Over 150 ePosters in the ePoster Learning Showcase focusing on the latest research in respiratory primary care. The ePosters will be available for 12 months
The opportunity for you to connect & collaborate in your own language with like-minded people
5 topical & informative symposia put together by our industry partners
CPD Approval is pending from the Irish College of General Practitioners
Everything at the 10th IPCRG conference is underpinned by our vision of a global population breathing and feeling well through universal access to right care. Our programme is for ALL members of the multi-disciplinary team working in all primary care settings in low-, middle- and high-income countries so please register today and share this invitation with your colleagues, inviting them to register.
There are a limited number of bursaries available if you are an ePoster author and from a low- or middle-income country. Please contact conferencedirector [at] ipcrg [dot] org for further information.