IPCRG Research Prioritisation Small Grants - Deadline extended to 31 May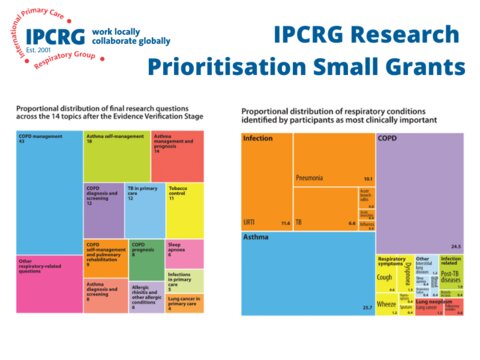 *Second deadline extended to 31 May 2023*
IPCRG is delighted to announce the launch of the IPCRG Research Prioritisation Small Grants programme, which will support the response to our recent research prioritisation exercise.
Our research priorities can be taken forward by everyone involved in primary care and respiratory research, but the top 10 priorities now receive special focus through these awards.
10 awards of up to £5,000 are being provided over 2 rounds, with the second submission deadline EXTENDED TO 31 MAY 2023 for round 2.
We are pleased to announce the 5 projects awarded a grant from our first round:
How can I exercise at home? Using photo-elicitation to understand sustainable pulmonary rehabilitation methods among people living with COPD in Malaysia. Hani Syahida Salim, Malaysia
Barriers and facilitators to implementation and uptake of inhaled medicines for the treatment of asthma in The Gambia. Shamanthi Jayasooriya, UK
Priorities and barriers in asthma care in primary health care in selected Central and (South)eastern European countries. Žan Trontelj, Slovenia
A systematic review about the possible role of learning theories in the development of a new educational model for inhalation technique in asthma or COPD patients. Lars Dijk, Nederland
Exploring the multidisciplinary approach in the management of persistent cough within primary care in resource limited settings. Edwinah Atusingwize, Uganda
We also intend the programme to help Early Career Researchers to develop their expertise. We invite proposals from any country, but they should be from a recognised research organisation (e.g University or Research Institute) and a supervisor must be committed to supporting the research and researcher/s named in the proposal. The award itself would be made to the organisation, likely in the name of the supervisor.
We are excited about this unique opportunity, the results it should offer to respiratory primary care, and the interest we expect it to stimulate in respiratory primary care research. We very much look forward to receiving applications and encourage you to spread the word
Our key criteria are:
The likelihood that the question concerned will be (in part or in full) answered
The impact and potential to make a difference to care
The impact, in terms of primary care and respiratory research capacity
Clear research approach and justification
The support of an experienced supervisor
Appropriate data source, study design and analysis methods
Awareness and compliance with regulations and issues around accessing data
The quality of the proposal
Have the potential to be used as models for larger projects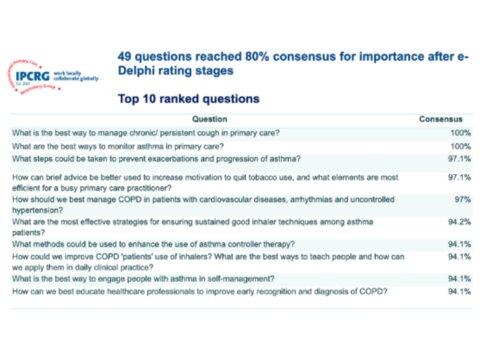 To apply you will need to:
Ensure that you are able to access, process and publish on any data that you intend to use in your study
Gain the commitment of an experienced supervisor who can guide the study
Ensure that your organisation is willing and able to receive funds from the IPCRG
Complete our application form (see below) and submit this to Neil Fitch (

neil

[at] ipcrg

[dot]

org

(subject: IPCRG%20Research%20Prioritisation%20Small%20Grants)

) by 17.00 UK time on 31st May 2023 for round 2.
Project selection process: There is a one-stage process to decide which projects the IPCRG will support.
Proposals will be reviewed by an expert IPCRG Panel according to the criteria above
An interview may be planned if the reviewers wish to explore any aspect of a proposal in more detail
Timing: We expect the successful projects from round 2 will start in the third quarter of 2023 and should complete in 12 to 18 months. We aim to make the grant offers by Mid-July. Projects must be completed on time and within budget. Dissemination may occur after project completion.
Dissemination of findings: We expect and encourage abstract submission to the 2024 12th IPCRG World Conference, and the results published either in a peer-reviewed journal and/or as practical guidance to share with primary care practitioners and researchers. IPCRG will need to be clearly acknowledged in all communications.
We look forward to reading your submissions. Good luck!
IPCRG Research Leadership Team