Asthma Right Care - October 2022 update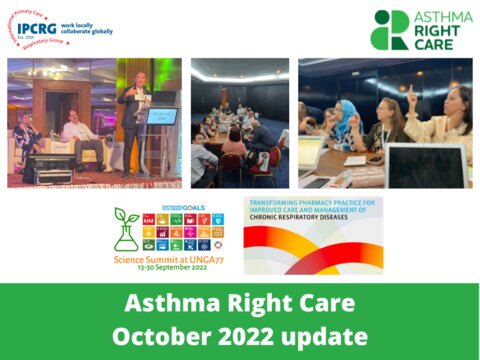 There is much new activity to report in our social movement approach to achieve change in asthma care. This month we highlight three: the launch of Asthma Right Care in Tunisia with IPCRG and APPA Tunisia, the launch of a handbook on chronic respiratory disease for pharmacists from FIP, with materials and a foreword by IPCRG, and a side meeting during the United Nations General Assembly led by our Argentinian team.
Asthma Right Care Tunisia
L'Association de Promotion de la Pneumologie et de l'Allergologie (APPA) and IPCRG Tunisia introduced Asthma Right Care during its national conference this month. A separate steering group meeting of 8 GPs, 5 pharmacists and 3 pulmonologists started planning their design charrette to test our toolkit with national stakeholders. Meanwhile, we worked with our Asthma Right Care colleagues Ana Stok, Sergio Zunnino and Javiera Corbalán in Chile and Argentina to deliver a session at the Science Summit during the UN 77th General Assembly. Our aim was to raise the profile of chronic respiratory disease in NCD advocacy, to highlight its burden in Latin America, focusing on where there are real opportunities for change and hope.
International Pharmaceutical Federation (FIP) Handbook
Support for pharmacists to provide services to people with chronic respiratory diseases — namely asthma and chronic obstructive pulmonary disease — is available in the form of two new resources published by the International Pharmaceutical Federation (FIP): CRD handbook and CRD K&S.
In a foreword to the handbook, IPCRG's CEO Siân Williams and President Ee Ming Khoo wrote: "In many countries, particularly in low- and middle-income countries, the only interaction the public has with health care is with their pharmacist, and this may include life-saving interventions such as management of acute attacks of chronic respiratory disease and treating tobacco dependence. We urge pharmacists to consider how they can improve their community's respiratory health, and enhance their engagement, so that we can all live in a world where everyone is breathing and feeling well through universal access to the right care."
In addition, it's still possible to access the launch webinar where Siân Williams and Board director and pharmacist Ema Paulino presented Asthma Right Care.
Science Summit during the UN 77th General Assembly
Due to the efforts of our Argentinian team we were able to present on Asthma Right Care as part of a major hybrid Science Summit during the UN General Assembly in New York. We described the burden of asthma at a personal, health system and population level, highlighting that it is a bio-psycho-social problem that needs a bio-psycho-social response, which good quality primary care offers.
We explained that whilst we do not know how to prevent asthma, we are beginning to understand some of the causes - including children's exposure to air pollution, showing the devastating changes in the Amazon region. We argued for clinicians to advocate for clean air for respiratory health. We showed how in Chile and Argentina Asthma Right Care is advocating for investment in primary care to improve its competence and confidence; a legal right to anti-inflammatory medicine, improved public information, and action on air quality including tobacco.